Meat Grinders, Meat Slicers, & More in Benton, AR
When you choose Betterway Food Equipment, LLC for processing machinery sales and service in Benton, Saline County, Little Rock, or Salem, AR, you're making a choice for experience, quality and honesty. We take pride in offering our Arkansas customers an expansive range of equipment for sale and, because we service what we sell, you're guaranteed sustainable functionality out of any investment you make! Most of the products we carry focus heavily on meat packing and processing, including:
Meat room equipment
Meat slicers
Meat grinders
Meat packing equipment
Meat saws
Tenderizers
Auto wrapping machines
Heat sealing equipment
Meat scales
We're also proud to have aligned ourselves with some of the best equipment suppliers in the industry. Whether you're looking for a new scale or upgraded meat grinders for sale in Arkansas, know that you're getting nothing short of the best from the top name brands. Our partnerships include: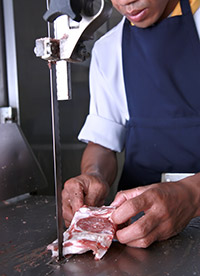 DIGI: For the best in weighing, printing and wrapping technologies, DIGI has proven itself an industry leader since the 1970s. We're pleased to provide meat scales and weighing equipment from DIGI that's tailored to meet your unique food processing needs. Each product we provide bearing DIGI's name is sophisticated and innovative, ready to integrate into your day-to-day operations.
BIRO: From top-of-the-line meat grinders to varying size meat saws in Arkansas, BIRO has the meat processing equipment you need to facilitate efficiency and precision throughout your processes. Floor and tabletop cutting and sawing models are available, with a variety of peripheral equipment and accessories to streamline your operations.
Daniels Food Equipment (DFE): Stainless steel manufacturing and the industry's best warranty are defining traits of DFE, lending longevity and reliability to your food processing operations. Look for mixers, grinders, tumblers and various meat processing products bearing the DFE seal of approval.
Heat Seal: Industrial packaging accommodations are the primary focus of Heat Seal, and the company offers semi-automated and automated technologies befitting to your needs and budget.
If you are a business in need of grocery store equipment, meat slicers for sale, automatic wrappers, hand wrappers, deli scales or any other processing equipment, you can look to Betterway Food Equipment, LLC to have everything you need. For more information about any of the products we're pleased to carry or to inquire about any of the brands listed above, contact us today by calling 501-821-9920.